Who can use the lab?
What do I need?
Can I get e-mail?
Can I read my e-mail at home?
Who are the Tutors?
What can I expect from the tutors?
What should I not expect from them?
What do you expect from me?
Who can use the lab?
Due to the increased demand, the lab is restricted to currently enrolled students.
What do I need?
A Clackamas Community College student body card with a current term sticker. These are available at the Help center in the Community Center Building. Your student ID card is used for checking out materials.
You will also need a storage device (Flash Drive, External Hard Disk Drive, etc.) of 100 megabytes or larger to store files.
Warning...
Any files, settings or programs you save on the computers in the Computer Lab are automatically erased each and every time you shut off or restart the computer.

Data erased this way cannot be recovered.
Can I get e-mail?
Students have access to email through their MyClackamas account.
Can I read my e-mail at home?
Yes, by logging into your MyClackamas account.
Who are the Tutors?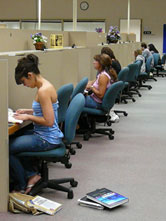 The lab supplies peer tutors who have taken a variety of computer classes and have a good understanding of the materials covered in those classes.
What can I expect from the tutors?
The Computer Tutors are here to help you find the answers to questions on course work. They do not "know" all the answers but they should be able to help with most questions and guide you to further resources when necessary.
What should I not expect from them?
You probably would not expect the Math tutors to help you with your English assignments. Many students seem to think that the Computer tutors should be able to answer any question that they have about a computer. This is an unfair assumption.
If you need assistance specific to your Business, English, Spanish, Nutrition, Drafting or Accounting classes as they relate to the computers, we will try to help, but it is possible that the only answer we will have for you is that you need to check with your instructor.
What do you expect from me?
The act of using our facilities indicates your agreement to abide by campus policies as outlined in the student handbook and any policies listed in this handout.
Do not use lab machines for non-academic pursuits. Lab computers are periodically monitored for compliance.
Persons disrupting the educational environment of the lab will be asked to leave.
The internet is for research related to college course work. The college has the right to refuse you access to our electronic resources if you do otherwise.
Beverages in covered containers are allowed in the computer are. NO food or open containers.
We do not lend items for use outside of the lab. Student ID cards will be required to check out items for in-lab use. This includes Math DVD's, headphones, textbooks, and calculators.